!- This is members.tripod.com/mike/chalice/index.htm- Michael Hofius' chalice webpage -> <!- Created 1/22/02 -> <!- Modified 2/6/02 -> <!- Modified 3/30/03 ->
WOODTURNED CHALICES
by
MICHAEL HOFIUS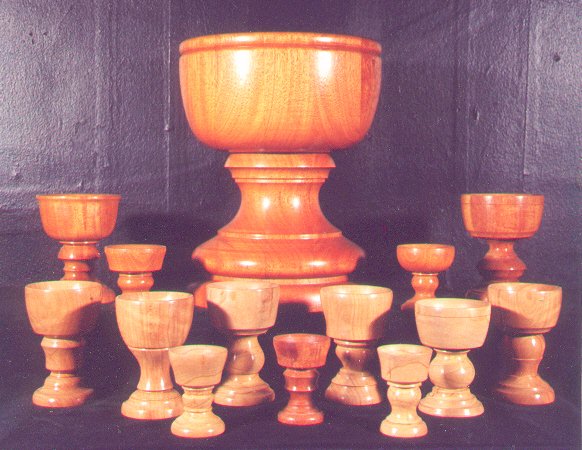 FLAMING CHALICES
Mahogany & Cherry






Here are examples of some of my one-of-a-kind handturned wooden Flaming Chalices and Communion Chalices for church / celebrational uses.

The bowls of the Flaming Chalices are protected by a hand-poured lining which is virtually fire proof. The Communion Chalices are finished inside their bowls and will hold any potable liquid without damage to the fine wood.

In the past I created a wide range of sizes and styles, from the 2.5 x 3 inch personal size chalice up to the 9.5 x 42 inch sanctuary size chalice shown at left.







More samples of Mike's chalices:





FLARED BOWL CHALICE
Mahogany
4 in. x 6 in.




TAZZA STYLE CHALICE
Cherry
12 in. x 12 in.




TULIP STYLE CHALICE
Cherry
5 in. x 6 in.



VICTORIAN STYLE CHALICE
Cherry
5 inch x 7 inch



COMMUNION SET
Walnut